This all started over several forums where people keep claiming marines are 7 feet tall and how terminator armor is only slightly bigger.
It all boils down to, when people use plastic terminators to convert into true scale power armor marines, they then need to upscale the terminators. Ive been told by a few mine are to big. Well, here is more then enough GW picture evidence to prove otherwise.
Most Recent Art showing scale.(not even 3 years old at most)
Then this, from about 5 years ago.

And finally the picture (from the early 90's when GW models were tiny) that people fail to see, that was drawn when marines were tiny. 15 years of size expansion shows a lot. Look at the most recent art above. That power armor marine is at least 8-9 feet. And he isnt even in heavy armor.
Read the new fluff people, and not just BL stuff.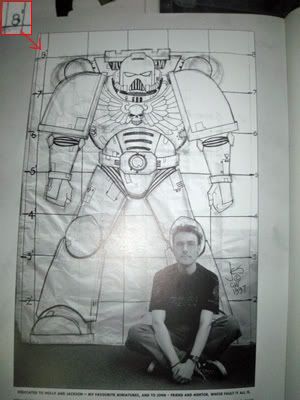 Also down to the last kits for them. So if you want them, act now
.
If by chance there are enough requests worth making another mold for a few more sets, email me direct. If we get enough people together, ill go ahead and do it. I however would need at least a handful of people to make it worth considering.